Vulcanization of conveyor belts – introduction
Conveyor belts are an extremely important element in many industries. Exposed to various types of mechanical damage, they require a professional approach and services of specialized specialists. If you are looking for a reliable service dealing with the vulcanization of conveyor belts, offering professional services of connecting, gluing and thresholding belts, then we invite you to the Center for Belts and Belts!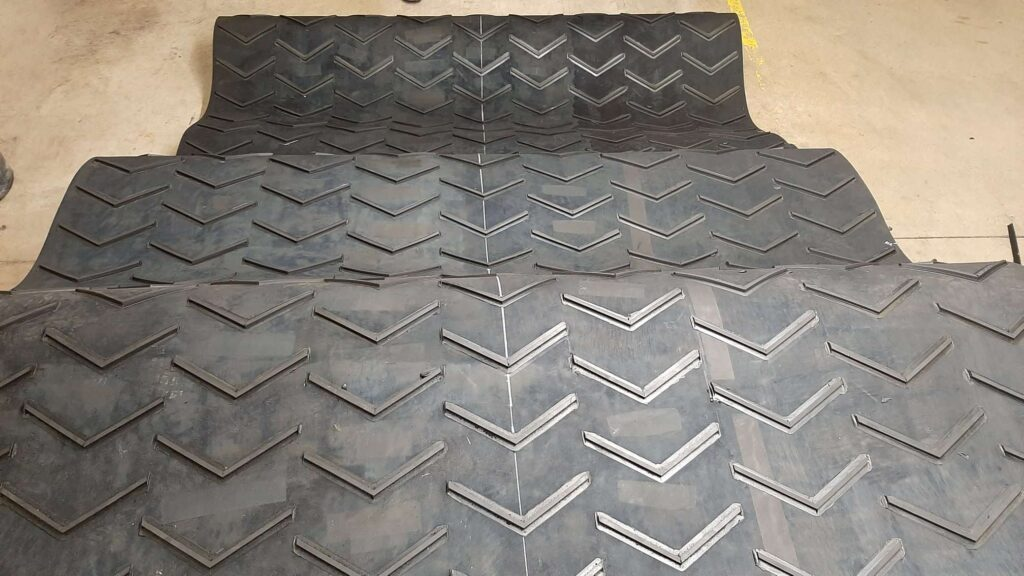 Our experience
Our team has extensive experience and uses effective methods to guarantee the appropriate durability of serviced conveyor belts. We operate efficiently and with full commitment, always completing the orders entrusted to us on time. Our experience allows us to quickly identify the cause of belt failure and effectively solve the problem. Depending on the type of conveyor belt, we select the best gluing method – both hot gluing using hydraulic presses and cold gluing . We are also ready to help with advice and explanations regarding the operation of conveyor belts.
We specialize in gluing and vulcanizing conveyor belts, offering comprehensive services that include not only the quick and effective elimination of problems, failures and damage, but also the indication of their specific causes. If you care about ensuring long belt life and trouble-free operation, then use our services!
Course of vulcanization
In our daily operation, we adapt to the type, width and location of conveyor belts, using proven and reliable methods of both hot and cold gluing. We remove any damaged edges, secure them carefully, repair holes and cracks, making the surface of conveyor belts look like new! We guarantee that thanks to our services we will improve the functioning of each conveyor.
Vulcanization of conveyor belts is a key process that ensures their long-term strength and reliability. In most industries, hot vulcanization is considered the only effective way to service rubber conveyor belts. This method guarantees extremely durable joints and enables the regeneration of materials that have been used for a long time in difficult conditions. However, in order to achieve optimal results, it is necessary to have the appropriate experience and equipment to enable effective repair.
It is worth emphasizing that the key factor is the place where the vulcanization process takes place. It should provide enough space for the curing press to work. In addition, the quality of the components from which the conveyor belt is made plays an important role. If these components were defective or contaminated, vulcanizing alone may only be a temporary solution. That is why we encourage you to use high-quality rubber conveyor belts that we supply at the Tape and Belt Centre.
Vulcanization of conveyor belts – summary
Tape and Belt Center is your professional partner in the vulcanization of conveyor belts. We provide comprehensive service, an experienced team and the use of effective methods. We work with passion and commitment to meet your expectations and guarantee you conveyor belts of the highest quality.