Belts for road machines CTP RE/X PREMIUM – Introduction
We are proud to announce the introduction of a new product line to our permanent offer – belts for road machines CTP RE/X PREMIUM. To meet the needs and expectations of our customers, we present a line of factory-profiled unloading belts for road and construction machines. Our latest products are marked as CTP RE/X PREMIUM . They are distinguished by excellent workmanship and increased durability, which makes them unrivaled on the market.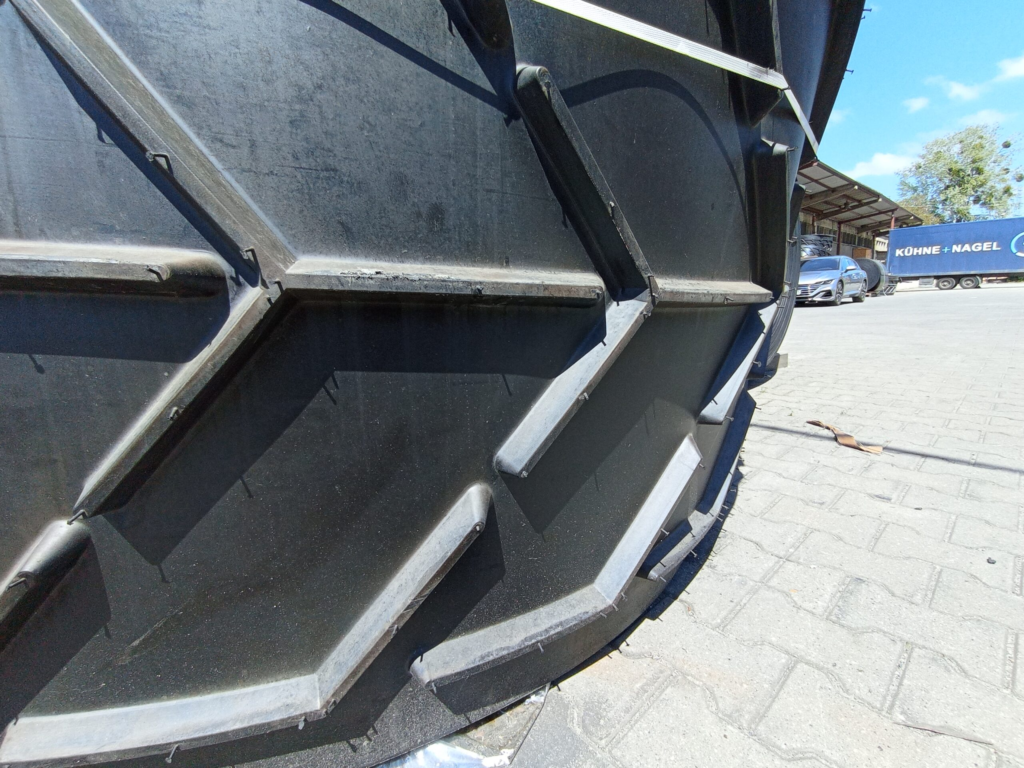 High-strength cores
Our belts are equipped with cores of increased strength, which reach 630 N/mm . Compared to standard belts on the market, which typically have a strength of 400 N/mm, our products are much more resistant to damage in harsh operating conditions.
Belts for road machines – Cover rubber in DIN X class
CTP RE/X PREMIUM conveyor belts for road machines have DIN X class rubber covers . They are characterized by 25% higher abrasion resistance compared to standard CHEVRON tapes. Due to the reinforced cover as well as the profiles on the tapes, our tapes have a much longer service life.
Increased resistance to tearing of the rubber covers
Our tapes are also more resistant to tearing the rubber of the covers , which effectively prevents the formation of cracks, punctures and tears . Due to this fact, our products are more durable and reliable even in the most demanding working conditions.
Fabric structure on the running side
We used a special fabric structure on the running side of the belt, which prevents it from slipping on the drums . Thanks to this, we can be sure that our belts will work with reliability and efficiency , ensuring stable operation of machines .
The highest quality of belt joining
In the Center for Tapes and Belts, we place great emphasis on the quality of belt joining . We guarantee the highest quality of tape connections in our products because we have many years of experience in both hot vulcanization into a circuit and mechanical connections.
Versatility and fit
Our belts for road machines CTP RE/X PREMIUM are compatible with machines of many reputable manufacturers, primarily with the popular Wirtgen brand and its competitors. Here is a list of some of the most famous manufacturers of road and construction machinery:
Wirtgen
Caterpillar
Komatsu
Volvo Construction Equipment
Hitachi Construction Machinery
Liebherr
J.C.B
Bobcat
Doosan Infracore
hmm
Dynapac
Bomag
Ammann
Vogele
Beatles
Our CTP RE/X PREMIUM road belts have been carefully designed to ensure a perfect fit and performance on these manufacturers' machines. Whether you use Wirtgen equipment or other reputable manufacturers, our tapes are sure to be an excellent choice . That is why we provide increased service life and reliability during operation.
Belts for road CTP machines – Summary
Our new line of unloading conveyor belts for building machines CTP RE/X PREMIUM is the result of our constant striving to improve products and meet the expectations of our customers. If you are looking for tapes with increased life and excellent workmanship, our products are undoubtedly just for you.
Finally, we invite you to familiarize yourself with our full offer on our website. If you have any questions or need additional information, our customer support team is ready to help you.