In today's article, we will introduce you to a revolutionary engineering solution that significantly simplifies the joining of transmission belts with different parameters. It is a Self-Lock transmission belt clip, characterized by extremely fast assembly and reliability. Let's take a closer look at this innovative technology and its key benefits.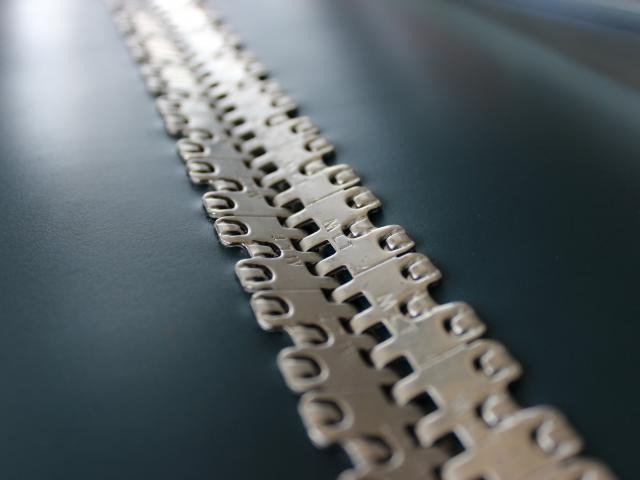 Self-Lock belt clip – quick installation
Self-Lock is distinguished above all by its extremely simple and quick installation. The entire clip assembly process takes place in one step, which makes it extremely user-friendly. Even people without experience in the field of industrial technology can successfully install this mechanical connection.
Low profile and smooth surface
One of the key advantages of Self-Lock is its low profile and smooth surface. Thanks to this solution, potential problems related to contamination or damage to transported products can be avoided. This clip ensures that the transport process is not only efficient, but also safe.
Self-Lock belt clip – universal installation tool
It is also worth noting that the Self-Lock transmission belt clip requires only a hammer to be installed. This means you don't have to invest in many different tools for different applications. This solution significantly facilitates work and saves time and resources. For people who deal with tapes in a professional manner, there is also a special mounting strip, which allows for very precise and even more accurate installation of this type of connector.
Non-magnetic stainless or galvanized steel
The Self-Lock belt clip is available in two material variants: non-magnetic stainless steel and galvanized steel. This means that it can be adapted to specific needs and working conditions. Both stainless and galvanized steel are durable and corrosion resistant, which translates into long-term performance of the clip.
Self-Lock belt clip – durable and reliable belt clamp
The key feature of Self-Lock is its durable and reliable belt clamp. This mechanical connection is able to hold transmission belts of various strengths and thicknesses, from 0.7 to 4.8 mm. The safety and reliability of this connection is a priority, which is why Self-Lock has been designed to meet the most demanding needs of the industry.
Summary
Self-Lock is a breakthrough solution that significantly facilitates the connection of conveyor belts with different parameters. Its quick installation, low profile, tooling versatility, availability in a variety of materials, and clamping reliability make it an ideal choice for a wide range of industries and applications. Thanks to Self-Lock, the material transfer process becomes more efficient and secure.
Please note that we have listed only a few of the many advantages of this innovative solution. Self-Lock is also available in different lengths, which allows you to adapt it to your specific needs.
If you are looking for a reliable and efficient mechanical connection for conveyor belts, Self-Lock certainly deserves your attention. Contact us and get a price offer!
More information about available products can be found on the Tape and Belt Center website!