The Flexco belt installation tools is an integral part of the process of joining belts in various industries. At the Tape and Belt Center, we are well aware of the role these tools play in the effective and reliable fastening of belts. That's why we offer a wide selection of high-quality belt crimping machines that meet the highest industry standards.
Flexco belt installation tools – RSC187
Our range includes a variety of installation tools that allow you to splice belts quickly and precisely. One of our popular products is the RSC187 Installation Tool. This tool ensures that the fasteners are held securely on the strap, keeping them in line while driving the staples. What's more, the RSC187 allows you to install two staples at the same time, which speeds up the belt joining process. Wider tools are also available, ideal for production and workshop requirements.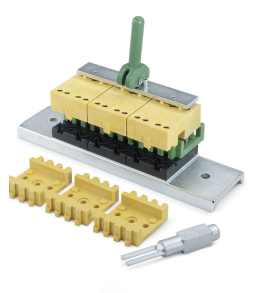 We also offer the Alligator® Quad Staple Driver, which allows the installation of four staples at a time. With this tool, installers can reduce installation time by 50%. The solid construction of this hardened steel tool ensures durability and reliability.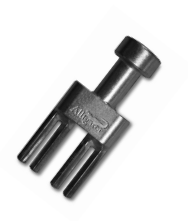 Flexco belt installation tools – set of tools
If you need a complete set of tools, then we have the Alligator® Staple Tool Kit for you. This kit contains everything you need to install, maintain and repair Alligator Ready Set Staples. The kit includes the RSC187 tool described earlier, as well as a staple end plate, hand scraper, tape marker, tape cutters, and a hammer. We deliver it in a sturdy box with plenty of room for other needed items.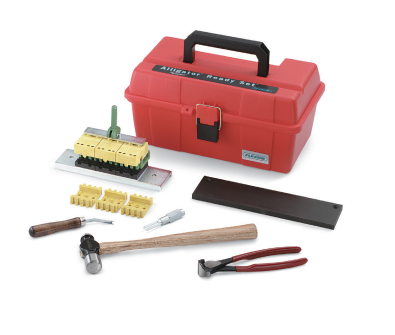 Alligator® Staple Gold Class™ Plus
In addition, we offer Alligator® Staple Gold Class™ Plus, which offers exceptional comfort and efficiency. In conjunction with the Gold Class™ power supply, the Gold Class Plus tool allows the installation of Alligator Ready Set™ clamping plates with quick and easy trigger pulls. Thanks to the innovative design of the Gold Class Plus tool, users can switch between different plate sizes in seconds. It's not only a quick and simple process, it's also almost error-free. It reduces the risk of repetitive motion injuries and reduces operator fatigue that often occurs when hammering multiple welds.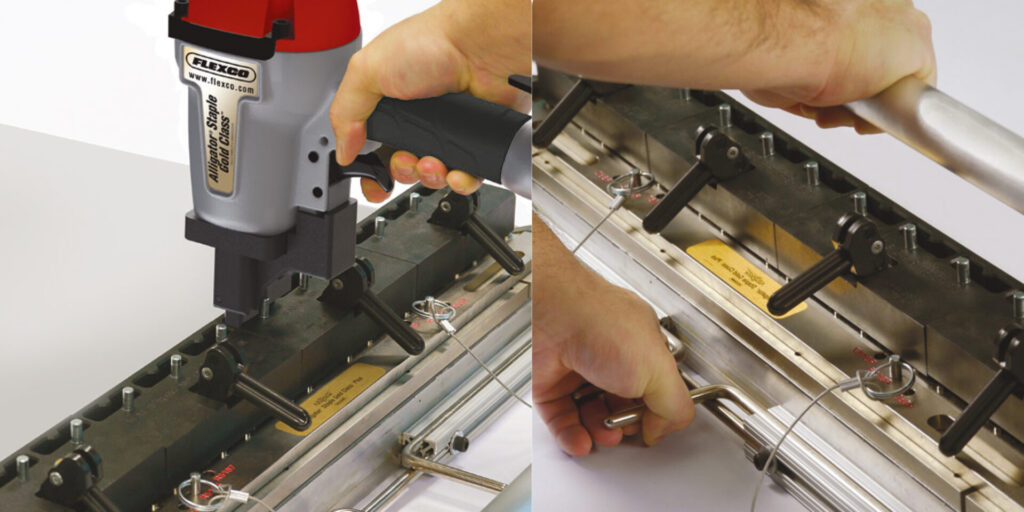 Summary
At the Tape and Belt Center, we import and distribute high-quality machines for crimping belts. Our range includes a variety of tools that ensure fast, precise and reliable belt splicing . With our products, you can reduce installation time, increase work efficiency and ensure durable belt connections. Flexco Belt Closing Machine – Contact us today and learn more!